Welcome to our site
---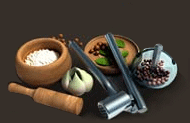 Welcome to the official website of Cinnamon Gardens, Munnar, Kerala, India. Situated in one of the most livable hillstations in the world and under the care of one of the most successful planters in the state, Cinnamon Gardens - The tranquil spice paradise attracts tourists and biologists from all round the blue planet. Cinnamon Gardens, a rich abode of natural flora and fauna, unleashes the unending expanse of its treasured secrets of herbal farming before the keen enthusiasts.
Location
---
Cinnamon Gardens is located just 13 km off Munnar town in the Cochin - Madhurai National Highway NH49. Munnar - breathtakingly beautiful - a haven of peace and tranquility - the idyllic tourist destination in God's own country. Set at an altitude of 6000 ft in Idukki district, Munnar was the favored summer resort of the erstwhile British rulers in the colonial days. Unending expanse of tea plantations - pristine valleys and mountains- exotic species of flora and fauna in its wild sanctuaries and forests - aroma of spice scented cool air - yes! Munnar has all these and more. It's the place you would love to visit - it's the place you would wish never to leave- so welcome!


Cinnamon gardens

Heading for the second image.